We like to give a big shout-out to our team at the Southeastern Reduction Company for their amazing job on their successful Safe Quality Food (SQF) Audit. Gregory Brunson, Plant Manager, presented an appreciation plaque to our SQF Practitioner Jenn Wertz for making this certification happen.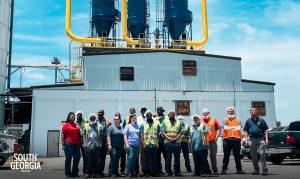 The Southeastern Reduction Company is a South Georgia Pecan division that process the unique fiber surrounding the pecan meats and shell.
Congratulations team!